Separation Children Marriage Breakdown
Separation is tough. It is especially tough for kids when their parents involve them in the details of the breakdown of the marriage relationship.
I recently had a conversation with someone who works in a primary school. It was shocking to learn from her how common it is that children as young as eight and nine years old are being involved in adult conversations with their parents about separation. This person was very clear in her assessment of how unwelcome these conversations are for children, and how these kids just 'can't wait to get inside the school gate and become normal'.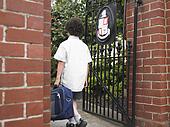 A number of these children's parents ring the school to let them know that they just 'had to have' what were really inappropriate conversations with their children. Many of these conversations sound to be about the parent downloading on the child, seeking to elevate their own position as a parent or demonising the other parent, but completely forgetting that kids want to be kids. They don't want to be involved in their parents drama, but want to know that the adults in their lives will keep them safe and make the decisions.
None of these  observations  are new, and are all supported by  many years of social science research and writing  by luminaries such as Joan Kelly, Janet Eaton, Rosalind Sedacca and Gary Direnfeld.  The kind of education that is needed  to help parents understand what they are doing  to their children when they involve them in this way,  can be provided by child psychologists working  with separating families.  It is yet another reason  for the integration of child psychologists from the outset,  rather than the default position which leaves out the child specialist until  there are problems to patch up. Prevention and not cure is best for kids.